2021 WMBA 3×3 Spring League
---
---
WMBA Community 3×3 League Spring 2021 (Ages 7-18)
The WMBA is moving forward with Spring registration, based on the March 5 announcement to move to Phase 3 of the Canada Basketball Return to Play.
We will be offering a 10-week program running from mid-April through June.
Our spring program will consist of 3 weeks of indoor skills training (teams of 10 with coaches) and transition to outdoor 3×3 competition in May.
The Competition season will consist of 12 regular-season games plus Divisional and City championships.
Registration
Participants will register online (www.wmba.ca) based on their closest community centre. Convenors will form teams of 10 and recruit volunteer coaches. Participants will be notified via email by the convenor/coach once they have been assigned to a team.
Fees 
The program fee will be $165 per participant, which will include:
Reversible Jersey
3 Indoor training sessions
12 – 3×3 matches
Division playoff (2 game guarantee)
City Championship
Important Dates:
March 10th, 2021 – Registration opens
March 31st, 2021 – Registration closes
April 1 – April 12 –  Administration, building teams, assigning teams
April 17/18 – Indoor team training begins
May 8/9 – 3×3 Competition begins
June 19/20 – Divisional Championship
June 26/27 – City Championship
WMBA Game Days
Each Game Day, teams will play three 3X3 matches
Ages 7-12 will play on Saturdays
Ages 13-18 will play on Sundays
*games can be rescheduled to weekdays in the case of rain/weather
Outdoor Courts/Facilities:
The WMBA Foundation has built, in partnership with the community centres, a high quality outdoor court in each of our six league areas.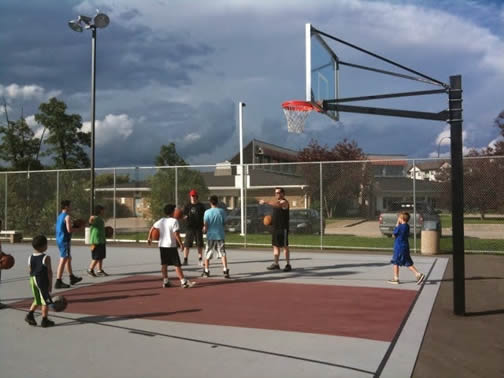 Dakota Community Centre – 1188 Dakota St, Winnipeg, MB R2N 3H4
Whyte Ridge Community Centre -170 Fleetwood Rd, Winnipeg, MB R3Y 1R3
Kirkfield Westwood Community Centre – 165 Sansome Ave, Winnipeg, MB R3K 0N8
Corydon Community Centre – 1170 Corydon Ave, Winnipeg, MB R3M 0Z1
Oxford Heights Community Centre – 359 Dowling Ave E, Winnipeg, MB R2C 3M4
Garden City Community Centre – 725 Kingsbury Ave, Winnipeg, MB R2V 3H9
What is 3×3?
What used to be a simple half-court game of pick-up has now become an officially recognized sport. This summer, the International Olympic Committee announced the inclusion of 3X3 basketball as an official event in the 2021 Olympics to be held in Tokyo.
BENEFITS of playing 3X3:
More, more, more! On average, players get 40% more touches on the ball (i.e. shots, handling the ball, passes, rebounds, etc..) when compared to the conventional 5v5 game.
Everyone is a guard. Because the game requires the ball to be moved quickly, all players need to share in the handling of the ball. This requires that players learn how to dribble with their head up and look to move the ball quickly.
You must defend. 3X3 is far more challenging to defend than 5v5. The nature of the game will force players to develop their individual and team defensive skills, particularly help side and ball containment.
Offensive movement. The basic principles of offence used in 5v5 basketball are essential to the 3X3 game – screen & cut, pass & cut, screening away, hard curls, drive and dish, etc.
Speed and quickness are of the essence. With the limitation of time and space, players are required to get the ball in play faster than the 5v5 game which provides for more shots, passes, rebounds, defending opportunities, etc.
For more information on 3X3 please see FIBA 3X3.